Empire - the beginning of the end?
In 1931, around 10,000 workers were unemployed in Darwen because of the Indian manufactured-cotton boycott. Mahatma Gandhi was in London, and received an invitation from the owners of Greenfield Mill to visit the cotton workers in the Lancashire town.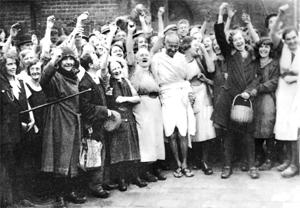 "I am overwhelmed by the affection shown to me in Lancashire. The poverty I have seen distresses me, and it distresses me further to know that, in this unemployment, I also had some kind of share."
Gandhi
Read Lancashire Evening Telegrapph article by Catherine Pye

Gandhi comes to visit the mill workers of Darwen, Septemeber 1931