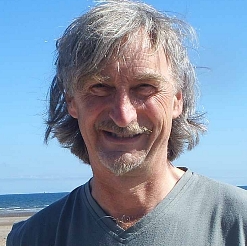 I have over twenty years' experience of community-based regeneration and ecological design. Prior to that I worked internationally in the energy industry as a trouble-shooter and project manager. I have worked as a business consultant to small organisations including local food producers, recycling companies, restaurants and retail outlets. I have had contracts in in publishing, writing and editing educational materials for managers and technical staff, based on my work experience. My activities have now run across all the major sectors, although my preferred area of work is community enterprise. I am drawn to the areas of food security and fuel poverty.
I have been teaching permaculture for over 20 years, developing my experience in delivering the international permaculture design course in the UK, sometimes in challenging circumstances. I am developing the art of supporting students who work across professional disciplines and across cultures.
For the past twelve years I have worked on a support system for the international permaculture diploma, and I am a co-founder of the Institute. I am responsible for the development of a tutor network throughout the north of Britain to support our apprentices, allowing me to further my keen interest in permaculture design and work-based training.
I have worked as an interviewer and facilitator, having undergone facilitator training from Environmental Resolve. I am also trained in community planning and I have worked within small organisations and with larger stakeholder events, at times working with Dr Joanne Tippett at the University of Manchester's School of Planning and Landscape. In addition, I act as a mentor for individuals and small businesses.
I have an MBA from Cranfield School of Management, and, more importantly, I was awarded the Diploma in Applied Permaculture Design in 1997.